Aluminum Wiring Replacement Services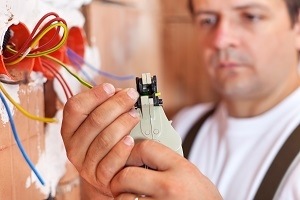 Above all else, the most important aspect of any electrical system is safety. You and your family rely on electricity in your home for each and every one of your daily tasks. You have a responsibility to ensure that your family's needs are provided for safely. At Electrical Technicians of Connecticut, LLC, our electricians are here to assist you in this regard. One electrical safety task that we routinely conduct is aluminum wiring replacements in Southbury and surrounding areas.
When you hire our electricians for your electrical safety related needs, you can feel confident knowing that you chose the best professionals for the task. We always strive to provide each and every one of our customers with the highest quality electrical services possible. In the end, our locally owned and operated company seeks to form long lasting and mutually beneficial relationships with all of our customers.
If you believe that you have aluminum wiring in your Southbury home, call Electrical Technicians of Connecticut, LLC, today. Our courteous and polite staff would be happy to take your call and to assist you in any way that we can. We can inspect your entire residential electrical system for all safety issues. Our team would be excited to schedule your appointment today.
Why is Aluminum Wiring a Problem
During a period of time before 1975, aluminum wiring was a popular choice for residential electrical systems. Although the wiring itself is perfectly capable of handling everyday electrical demands, it became clear that problems occurred at connection points. When aluminum wiring oxidizes, it becomes highly resistant to electricity.
This increased resistance is problematic because these connection points can become very hot. If the problem is not rectified, it can, in turn, lead to a fire. For this reason, it is highly recommended that all homeowners consider replacing aluminum wiring.
Highly Skilled Aluminum Wiring Replacement Experts in Southbury
At Electrical Technicians of Connecticut, LLC, our Southbury electricians have an immense amount of experience with aluminum wiring replacement projects. Our professionals can personally inspect your home to determine if there are any safety problems present. In every job, we customize our services to the unique situation present.
If need be, our highly skilled team can completely replace all the aluminum wiring in your home with safe and proven copper wiring. After our efforts, you can rest assured knowing that all your electrical needs are being provided for in the safest possible manner. You and your family are guaranteed to be pleased with the results of our services.
If you are looking for an electrician for an aluminum wiring replacement project in Southbury, CT or nearby, please call 203-262-0481 or complete our online request form.
Recent Articles
Helpful Advice for Choosing a Standby Generator for Your Home - Electricity is more than a convenience; it is a necessity. Without a reliable source of electricity in your home, you and your family cannot enjoy your property to the utmost. When the power goes out in the local area, you and your family are deprived of the comfort and security that you expect and deserve in your property. For these reasons, every homeowner should consider installing a standby generator … Read More
What Southbury Residents Should Know About Level 2 Electrical Vehicle Chargers - Generally speaking, for residential properties, there are two options when it comes to electrical vehicle chargers, level 1 and level 2. Level one chargers rely on the 120V current within your residence. In contrast, level 2 electrical vehicle chargers have 240V, similar to your washer and dryer. This added current allows your electronic vehicle to charge much faster than with a level 1 system … Read More