Call Us for Ceiling Fan Repairs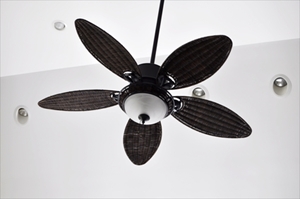 At Electrical Technicians of Connecticut, LLC, our electricians are proud to provide the highest quality electrical repairs to local residents and businesses. Our professionals have the knowledge, skill, and experience necessary to keep every portion of your electrical system in the best condition possible at all times. We handle every sized task large or small. One of the most common things that we do is routine ceiling fan repairs in Southbury.
Far too often, when a ceiling fan fails to function, homeowners do not resolve the issue. Instead, they either tolerate the problem or they think their only recourse is to replace the fixture altogether. In the first instance, you cannot enjoy your home to the utmost. In the latter, you may be spending way to much to deal with the problem. Our Southbury electricians are here to help you in this regard.
If your ceiling fans and fixtures are inoperable, wobbling, our malfunctioning, call Electrical Technicians of Connecticut, LLC, today. Our Southbury electricians would be happy to help you with all your repair needs. We can troubleshoot your fixture in order to determine the precise problem. Our staff would be excited to answer any of your questions and to schedule your appointment today.
Troubleshooting & Ceiling Fan Repairs in Southbury
When a ceiling fan fails to operate properly, the hardest part of repairing the problem is identifying what the true issue really is. There could be an issue with the fixture itself, its power source, its mounting, or its wiring. Without the requisite knowledge, equipment, and training, it can be extremely difficult to determine the issue yourself. For these reasons, it is highly recommended that you hire a professional for assistance.
At Electrical Technicians of Connecticut, LLC, our Southbury electricians can troubleshoot your ceiling fan and fixtures for you. With our expertise, we will easily identify and repair the problem. Your ceiling fan will be restored to the best condition possible in the shortest time frame. You and your family will be completely satisfied with the results of our efforts.
Ceiling Fan Repairs Save You Time and Money
When you hire our Southbury professionals for your ceiling fan repair needs, not only will these fixtures operate effectively once again, but also you will save both time and money. You will not have to search for a replacement ceiling fan that will match your interior decoration scheme. Better yet, the repairs will be far less costly that a replacement project. You will get the absolute most out of your ceiling fan.
If you are looking for an electrician that provides ceiling fan repairs in Southbury, CT or nearby, please call 203-262-0481 or complete our online request form.
Recent Articles
Helpful Advice for Choosing a Standby Generator for Your Home - Electricity is more than a convenience; it is a necessity. Without a reliable source of electricity in your home, you and your family cannot enjoy your property to the utmost. When the power goes out in the local area, you and your family are deprived of the comfort and security that you expect and deserve in your property. For these reasons, every homeowner should consider installing a standby generator … Read More
What Southbury Residents Should Know About Level 2 Electrical Vehicle Chargers - Generally speaking, for residential properties, there are two options when it comes to electrical vehicle chargers, level 1 and level 2. Level one chargers rely on the 120V current within your residence. In contrast, level 2 electrical vehicle chargers have 240V, similar to your washer and dryer. This added current allows your electronic vehicle to charge much faster than with a level 1 system … Read More