Looking For A Beacon Falls Electrician?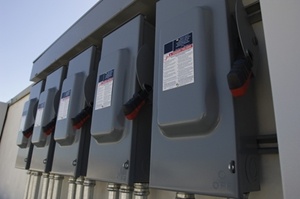 Electrical Technicians of Connecticut, LLC offers professional, dependable electrical repair and installations for homes and businesses in Beacon Falls. Each of our Beacon Falls electricians is Connecticut certified and licensed in all areas of electrical work. We specialize in lighting, security systems, electrical panels, generators, repairs, wiring replacement, circuit installation, and so much more. Check out our services for your home or business.
We give you honest, competitive rates for service that you can rely on. We'll always provide quality workmanship you can count on to be done right. We provide full electrical services including expert electrical repairs, installations, wiring replacements, panel upgrades, knob and tube wiring replacements, outlets and switch repairs, installations of home generators, ceiling fans, outdoor and indoor lighting options, surge protection, and so much more!
When you are in need of a professional electrician in Beacon Falls, call us. Whether you're looking for electrical repairs or other services, our Electricans will be there to take care of all the issues right. At Electrical Technicians of Connecticut, LLC, we are your local Beacon Falls electricians that your friends and neighbors already trust.
Electrical Repairs & Upgrades
Our professional electricians at Electrical Technicians of Connecticut, LLC are the premier Electrical Repair experts in the Beacon Falls area! Since 2009, we've been dedicated to serving our customers with the best service around.
Our electrical repair services are provided to homeowners and commercial business owners in Beacon Falls. We provide all types of services including wiring installations for equipment like ceiling fans, generators, surge protection devices, lighting, landscape lighting, pool lighting, low voltage party lighting, new construction electrical systems installations, panel upgrades, and much more.
It's important to call in for electrical repairs when you notice an outlet that's not accepting a plug or sparks when connected to an appliance. Don't risk another day of having bad wiring, bad lighting, or bad outlets. Electrical repairs need to be done quickly so you can get your outlets and other electrical problems fixed today! Otherwise, you could be faced with fires, electrical shock, or destroyed expensive appliances and electrical gear. Don't let your TV, PC, and all your expensive devices go up in smoke!
Time For An Electrical Safety Inspection?
At Electrical Technicians of Connecticut, LLC, our priority is you and the safety of your building or home. We strive to ensure that the environment is safe and that the electrical systems are safe and effectively working for you. If you've never needed an electrician before, it's probably past time to have the electrical systems inspected and checked for problems. We usually find that many older buildings have old wiring that must be replaced. Occupants are at serious risk when wiring is old or damaged. Call today and your electrical system will be thoroughly checked out. Homes should have an electrical inspection done about every 5-10 years and commercial buildings need an electrical inspection about every 5 years. Let's get your panel up to code today.
Home Generators Installation & Repairs
Home generators are important to have around for times when you lose power to your home. They come in different sizes that support different capacities. Depending on what you'll want and need for your home, there are different types available for you to choose from, including whether you'll want gas fed, propane fed, or diesel. Whatever your need, we can install the right unit for you.
When your home generator needs repair, turn to our Beacon Falls electricians. We can help you with your generator repairs or replacements any time you need them. We can also install generators for your property and offer you many types and sizes to suit your needs. Don't get stuck in a bad situation with no source of power, let us come out and show you your options because there's sure to be a system that will at least minimally suit your needs. Whether you're interested in a large generator or one just for smaller home emergency use, we have you covered.
If you are looking for an electrician in Beacon Falls, CT then please call Electrical Technicians of Connecticut, LLC at 203-262-0481 or complete our online request form.