High Quality Electrical Services In Bethany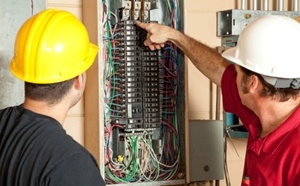 Your electrical system is easily one of the most important systems in your entire home, and as such, is is extremely important to make sure that you are doing everything you can to ensure that your system gets the kind of professional care it needs to continue running its best at all times. When it comes to electrical issues in your home, one of the best things you can do is to make sure that you have the name of a team of professionals who can be on hand quickly in the event that something goes wrong, before that ever happens. When you are looking for the name of a professional Bethany electrician you can count on to deliver you the quality service you can count on to keep your home functioning its best, the only name you need to know is Electrical Technicians of Connecticut, LLC. Electricity is an integral part in all of our daily lives, and we have come to depend on it for just about everything that we do. Because of this, it can be very easy to take it for granted until you are forced to go without it. When it comes to your home's electrical service needs, our team of electricians believe that you should never have to settle for anything less than the absolute best, and when you make the call to our team of experts, you never will.
Here at Electrical Technicians of Connecticut, LLC, we believe that a large part of the success that we have had over our years of service stems from our commitment to forming long lasting and mutually beneficial relationships with our customers by making sure they get exactly the kind of service they need, right when they need it. Our team of professional Bethany electricians never cut corners in our service and we never sacrifice quality for the sake of speed. You can rest assured that when our team of professionals are on the job, the results of your service are going to be something that you can count on to keep your home safe and comfortable for you and your family for a long time to come. If you have any questions about our full line of high quality electrical services, or if you would like to schedule an appointment for consultation with one of our specialists, give us a call today. Our team of experts are always standing by and would be more than happy to assist you in any way we can.
Residential Electrical Repairs In Bethany
Anytime something goes wrong with your home's electrical system, it can severely impact you and your family's ability to safely enjoy your home. Identifying exactly what is causing your electrical issues can be quite difficult if you don't know exactly what you're looking for, and you should never attempt to repair any issues you might find on your own. When it comes to fixing any and all electrical issues your Bethany home might be experiencing, you can always count on the team of experienced electricians right here at Electrical Technicians of Connecticut, LLC. No matter how simple or complex your issues might be, we guarantee that our team of experienced professionals will be able to get the issue sorted out in no time at all and have your home restored to its original quality state before you know it. Whether you are in need of minor electrical troubleshoot, or complete home rewiring, our team of professionals are standing by and ready to help.
Commercial Electricians In Bethany
As a business owner, you understand just how important it is that your business space be able to function efficiently and effectively at all times, and a large part of that responsibility rests on your commercial electrical system. Anytime your electrical system is experiencing issues, small or large, they can disrupt the workflow, leading to a number of various issues around the workplace. Anytime you are experiencing any kind of electrical issues with your Bethany commercial property, you can always count on our team of professionals here at Electrical Technicians of Connecticut, LLC to provide you with the quality service you need to keep everything up and running like it should be.
If you are looking for a professional electrician in Bethany, give us a call today at 203-262-0481 or complete our online request form.