Highly Skilled and Experienced Brookfield Electricians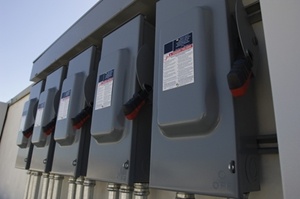 At Electrical Technicians of Connecticut, LLC, our Brookfield electricians are proud to provide local families and businesses with the highest quality electrical repair and installation services. We believe that all of our customers deserve to have safe, efficient, effective, and reliable sources of electricity in their properties. All of our efforts are focused on achieving each and every on of these attributes.
From mounting flat screen TVs to new construction design and installation services, our Brookfield electricians handle it all. The one constant in everything that we do is our focus on maximizing customer satisfaction. Our company wants you to know that you can trust us with all your present and future electrical needs.
Call Electrical Technicians of Connecticut, LLC, today if you need to hire a professionally licensed electrician in Brookfield. Our courteous and polite staff would be happy to take your call, to answer any of your questions, and to schedule your consultation or service call today.
Brookfield Electrical Repair Contractors
When something goes wrong with your electrical system, it can be difficult to know how to resolve the problem. As always, the best course of action is to hire a professionally licensed electrician for the task. Our Brookfield electricians are here to help you with all routine maintenance and emergency repair needs.
Our professionals can troubleshoot your electrical system in order to find all safety problems and causes for substandard performance. We repair electrical panels, wiring, outlets, fixtures, and appliances. After our efforts, your electrical system will once again operate in the best possible manner.
Lighting Repairs and Installations in Brookfield
At Electrical Technicians of Connecticut, LLC, our Brookfield electricians can install, maintain, and repair both exterior and interior lighting for commercial and residential property owners. With our help, your lighting will provide for all your functional needs and achieve all your aesthetic tastes. Here are just a few of the exceptional lighting services that we proudly provide:
Lighting Repairs
Lighting Installations
Landscape Lighting
Security Lighting
Low Voltage Lighting
Pool Lighting
And More
You can also rely on our electricians for electrical repairs and wiring/rewiring related services. Whatever you need for your home or business in terms of electrical services in Brookfield, CT, you can rely on our team of professionals to get the job done.
Vehicle Charging Station Installations in Brookfield
If you own an electric vehicle or if you are a commercial property owner, you should give serious consideration to installing a vehicle charging station on your property. This is an exceptional addition to any home or business, preparing your property for the increased prevalence of these types of cars. You will save time and money at your home and your business will be more attractive to potential clients and customers. Our Brookfield electricians can guide you through the entire effort.
If you are looking for an electrician in Brookfield, CT then please call Electrical Technicians of Connecticut, LLC at 203-262-0481 or complete our online request form.