Reliable New Fairfield Electricians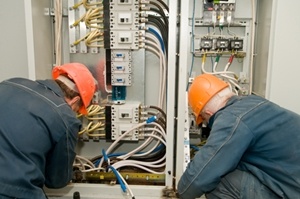 Finding the right electrician in New Fairfield isn't always that easy. First, you need a reputable company with New Fairfield electricians who are qualified to handle whatever needs to be done. While simple electrical repairs may be fine for some problems, you will also need an electrician who can do advanced troubleshooting, new electrical design and installation, wiring replacements, safety inspections, and anything else you would need.
Call Electrical Technicians of Connecticut, LLC any time you need a reliable Electrican. Our electricians provide the best in service at competitive prices. We offer a full line of services and can take care of everything you need whether it's residential or commercial electrical services in New Fairfield.
Need Electrical Repairs in New Fairfield?
Many older homes already need some type of electrical work done. It's important to call an electrician to make upgrades or repairs as needed. If you've noticed that there are some electrical problems in your New Fairfield home such as loose outlets, switches that only sometimes work, burn marks on the wall, or other similar problems, your electrical system needs attention.
If you notice an outlet that won't accept a plug or you notice sparks when plugging an appliance in, it's important to call a New Fairfield electrician as soon as possible. Don't risk another day of living with bad wiring or bad outlets. The electrical repairs need to be done as soon as a problem is noticed.
Electrical Troubleshooting
Lighting Repairs
Outlet Repairs
GFCI Electrical Outlets
Ceiling Fan Repairs
Panel Upgrades
Wiring Replacements
Lighting Installations in New Fairfield
The lighting in your home or business provides many benefits. If it is not meeting your current needs, the lighting system can be enhanced or upgraded. Our electricians at Electrical Technicians of Connecticut, LLC, can install, maintain, and repair light fixtures for homes and businesses in New Fairfield. We take repair and install all types of lighting systems including pool lighting, security lighting, flood lighting, landscape lighting, indoor lighting, and more.
Home Generator Installations
If you've been thinking about getting a home generator, call us to go over some options. There are all kinds of generators available today from the standard portable unit to the commercial and industrial sized generators.
With a home generator installation, the backup power source can provide emergency systems only or power your entire home. The best systems give you seamless power and are tied into a municipal or propane tank gas supply. Don't get stuck in a bad situation with no source of power. Let us come show you some options because there is sure to be a home generator that will suit your particular needs.
If you have a generator already, you will at some point need repairs and maintenance for it. It's important to ensure that they are ready to use whenever you need it. We can get your generator working great with a tune up or repairs when needed. We can also help you replace the generator when it's time.
Commercial Electricians At Your Service
Do you have a commercial building in New Fairfield? Every business needs access to an experienced commercial electrician who is reliable and experienced. It is our honor to serve the commercial electrical service needs of businesses in New Fairfield. Whether you need a new electrical system designed and installed for new construction, a phone/cable/network system installation, fire alarm installation, shop relocation wiring, backup generators, electrical repairs, code compliance upgrades, or anything else, we want to be your go-to electricians.
AC Smoke Detectors & Carbon Monoxide Detectors
Part of keeping an indoor environment safe is ensuring that there are no harmful contaminants in the air. Carbon monoxide is deadly killer when it builds up enough inside a house or building. By installing smoke detectors and carbon monoxide detectors in key areas, the occupants will be alerted if the environment becomes unsafe. The smoke alarms and CO alarms which are directly installed into the electrical wiring of the house or building are more reliable. They come with a lithium backup battery that never has to be replaced. Call today for more information.
If you are looking for an electrician in New Fairfield, CT then please call Electrical Technicians of Connecticut, LLC at 203-262-0481 or complete our online request form.