Middlebury Residential and Commercial Electricians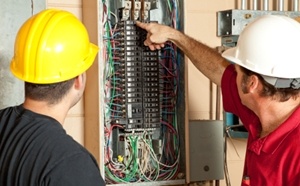 One of the most amazing aspects of the modern age is electricity. Nearly every one of the everyday tasks that we conduct is made possible by our electrical systems. When a problem occurs, it can be seriously disruptive to how we use and enjoy our homes. At Electrical Technicians of Connecticut, LLC, our Middlebury electricians understand how important your system is to you, your family, or your business. We are proud to provide the highest quality commercial and residential electrical services in the area.
Our professionals have the knowledge, skill, and experience necessary to handle any electrical task, from minor repairs to new construction design and installation services. We seek to form long lasting relationships with all of our customers. By providing the highest quality and most customized services each and every time, our electricians convey the fact that you can trust us with all your present and future electrical service needs.
If you need the assistance of a professionally licensed electrician in Middlebury, CT, call Electrical Technicians of Connecticut, LLC, today. Our team is ready and eager to assist you in any way that we can. Our polite and knowledgeable staff would be glad to answer any questions that you may have and would be excited to schedule your appointment today.
Commercial New Construction Electricians in Middlebury
When you embark on a major commercial construction or remodeling project, it is absolutely imperative that you hire a professionally licensed electrician to assist you with the task. Your business will productive and profitable only if your electrical system is designed to complement and enhance your everyday operations. Our Middlebury electrical technicians have the skill and knowledge necessary to assist you in this regard.
Our experts are adept at designing and installing entire electrical systems during extensive new construction projects. We can work hand-in-hand with you and other contractors to ensure that all of your needs and goals are accomplished. Your business will benefit greatly from our efforts, now and in the future.
Residential Electrical Repairs in Middlebury
From fixing broken ceiling fans to complete whole-house rewiring efforts, our electricians handle every type task requring electrical repairs in Middlebury, CT. Our experts can troubleshoot your entire electrical system to find any safety or performance issues that are present. We can then repair these problems on the spot.
If you notice that there is an problem with your electrical system, call our Middlebury electricians today. We will respond immediately to your call and will be on-site as soon as possible. Our electrical repair contractors will work tirelessly until your system is once again in the best condition.
If you are looking for an electrician in Middlebury, CT then please call Electrical Technicians of Connecticut, LLC at 203-262-0481 or complete our online request form.