Newtown Electricians Dedicated to Customer Satisfaction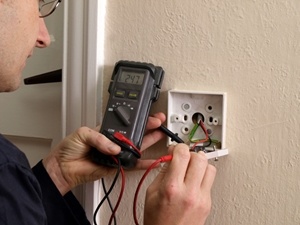 As a property owner, you have an obligation to keep your electrical system well maintained at all times. The best way to fulfill this responsibility is to develop a relationship with a professionally licensed electrician. At Electrical Technicians of Connecticut, LLC, our Newtown electricians are here to assist you in this regard. We are adept at all major and minor residential and commercial electrical tasks.
From new construction system design to minor electrical repairs, our team of professionally trained and licensed electricians handle it all. In every service that we provide, we bring the same dedication to excellence and meticulous attention to detail to task in order to achieve the highest quality results. In this way, we convey to all of our customers the fact that they can trust us with all their present and future electrical service needs.
Call Electrical Technicians of Connecticut, LLC, today if you need to hire a professionally licensed electrician in Newtown. Our team is always eager to assist a local family or business in any way that we can. With our help, your electrical system will operate in the most efficient, effective, and reliable manner. Our polite staff can answer any of your questions and can schedule your appointment today.
Electrical Repairs in Newtown
Whenever there is a problem with your electrical system, it is important to hire a professional as soon as possible. Faulty electrical wiring and tripping circuits can be a sign of dangerous conditions in your home. Malfunctioning appliances and flickering lights can seriously disrupt how you and your family use and enjoy your home.
At Electrical Technicians of Connecticut, LLC, our Newtown electricians are here to provide for all your residential electrical repair needs. We have the knowledge, skill, and experience necessary to troubleshoot the entirety of your residential electrical system, from your panel and wiring to your outlets and fixtures. Our team can then repair any problems that we find.
Lighting Installations in Newtown
The lighting in and around your Newtown home or business has a tremendous effect on your property as a whole. Not only does it provide necessary illumination to help you with your everyday tasks, but your lighting also is critical to the appearance of your living spaces and the exterior of your home or business.
At Electrical Technicians of Connecticut, LLC, our Newtown electricians are adept at designing and installing comprehensive lighting systems for both residential and commercial clients. Here are just a few of the exceptional services that we routinely provide:
Lighting Installation
Landscape Lighting
Security Lighting
Low Voltage Lighting
Pool Lighting
And More
If you are looking for an electrician in Newtown, CT then please call Electrical Technicians of Connecticut, LLC at 203-262-0481 or complete our online request form.