Exceptionally Experienced and Skilled Oxford Electricians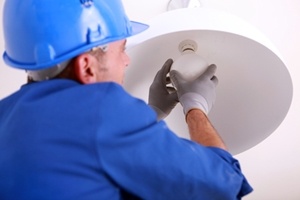 Keeping your electrical system well maintained is a difficult and ongoing obligation. You and your family rely on electricity for nearly all of your everyday tasks. Your business would grind to a screeching halt without a reliable and efficient electrical system. At Electrical Technicians of Connecticut, LLC, our Oxford electricians are here to assist you with this important responsibility.
Our professionals have the knowledge, skill, and experience necessary to handle any residential or commercial electrical task. From minor repairs to major replacements, we handle it all. In every service that we provide, our professionals place customer satisfaction as our highest priority. When you hire us for your next repair or installation project, you can feel confident knowing that we will bring this dedication to excellence to task for you.
Call Electrical Technicians of Connecticut, LLC, today if you need to hire a professionally licensed electrician in Oxford. Our polite and dedicated staff is here to assist you, your family, and your business in any way that we can. We would be happy to discuss your needs over the phone and to answer any questions that you may have about our exceptional skills and services. We can schedule your appointment today.
Residential Electrical Repair Experts
The number one rule of conducting electrical repairs in Oxford is to never handle a task that you lack the experience to accomplish. Electricity is extremely dangerous, even more so if your lack knowledge, training, and experience. For this reason, it is imperative that you always hire a professionally licensed electrician when there is a problem in your Oxford residence.
At Electrical Technicians of Connecticut, LLC, our Oxford electricians are here to help. We can repair any electrical problem that arises in your home. From minor appliance and outlet repairs to complete whole-house rewiring efforts, our team handles it all. After our electrical repair services, your system will provide for your needs in the most reliable and efficient manner.
Home Generators Installed by Oxford Professionals
Because electricity is so vital to how you and your family use and enjoy your home, it is important to have a back-up power source ready to provide for your needs in case of an emergency. Our Oxford electricians specialize in designing, installing, and maintaining home back-up generators for our residential clients.
Choosing the correct generator for your home can be difficult. The size of a generator that you will need will depend on the layout of your property and the systems that you need to keep running. With the advice and guidance of our Oxford electricians, you will choose and install the best home back-up generator.
If you are looking for an electrician in Oxford, CT then please call Electrical Technicians of Connecticut, LLC at 203-262-0481 or complete our online request form.