Prospect Electricians Dedicated to Excellence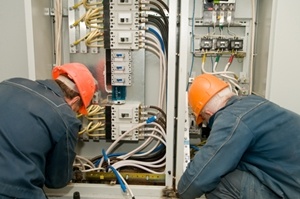 One of the most important things that you can do, as a home or business owner, is secure a reputable electrician to work with, for all of your service needs. Smart locals know that Electrical Technicians of Connecticut, LLC is the name to trust in for this type of work. We have established ourselves as the premier choice in the area for this type of quality work.
Here at Electrical Technicians of Connecticut, LLC, our team of experienced Prospect electricians can help you with everything from minor electrical troubleshooting and repairs, to whole home rewiring. No matter how big or small the job might be, you can always count on the fact that your project is going to be undertaken with the same level of care and attention to detail, and that the results of your service are something that you and your family can feel safe and comfortable with for many years to come. We stand behind the quality of our work 100%, and we never cut corners, or sacrifice quality for the sake of speed. When you find yourself in need of quality electrical services, call in the team of professionals who you can count on to provide you with the same level of quality service that they would use on their own homes. If you have any questions about our full line of electrical services, or if you would like to schedule an appointment for consultation with one of our specialists, give us a call today. Our team of experts are always standing by and would be more than happy to assist you in any way we can.
Electrical Repairs In Prospect
Anytime there is any kind of issue with your home's electrical system, it is important to make sure that you leave any and all repairs to the professionals. Your electrical system is quite complex, and if you are aren't entirely sure of what you are doing, and how you are doing it, it is very easy to hurt yourself or to leave behind unsafe conditions that could pose a threat to your home. Here at Electrical Technicians of Connecticut, LLC, our team of experienced Prospect electricians have the training and the skill to help you keep your home's electrical system up and running as efficiently and effectively as possible at all times. From electrical troubleshooting and minor repairs, to rewiring and panel upgrades, our team of professionals can help you do it all.
Lighting Installations In Prospect
When it comes to improving the look and function of your home, there are a few projects that can get the job done, but one of the most effective and the most efficient is the process of having new lighting installed. Whether inside your home, or outside, new lighting can have a dramatic effect on your property, and can even change the way you use rooms in your home or the areas outside of your home. As simple as it might seem to install a new lighting fixture, however, it is always a better idea to call in a professional and have them perform the work for you to ensure that no damage is done to your electrical system or your new lighting fixtures themselves.
If you are looking for a professional electrician in Prospect, give us a call today at 203-262-0481 or complete our online request form.