Ridgefield Electricians Dedicated to Excellence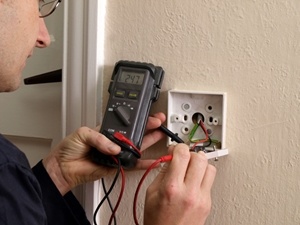 Few people appreciate the importance of their electrical system, until something goes wrong with it. The truth of the matter is, we rely on electricity for almost every aspect of our day-to-day routine. This is true for both residential and commercial applications.
Electrical Technicians of Connecticut, LLC is the only name that you need to know, when it comes to addressing the service needs of your home or business. The bottom line is that we are the local leading service provider, for electrical work. Yet we see too many home or business owners who seem to think that they have to choose between quality workmanship or affordable service.
There is never a reason to make this type of sacrifice, settle for inferior work or pay too much for basic work. You can rest assured that, by partnering with us, you can get the quality work you need for the reasonable price you deserve. Give our Electricans a call today to find out more about what we can offer you.
Residential Electrical Services in Ridgefield
One of the things that we pride ourselves on is being able to offer both quality and quantity. Our Ridgefield Electricians can take care of a wide variety of services, but the level of quality will always be topnotch. Some of the residential service we offer include:
Electrical Troubleshooting - One of the most frustrating things that a homeowner can experience is an electrical problem that is seemingly a mystery. Too often, they call on a so-called industry pro who plays trial and error in an attempt to get to the root of the problem. All the while running up high service bills for you to pay. We can analyze the problem and offer a solution, in a prompt and professional manner.
Knob and Tube Wiring - Older homes are amazing, the wiring inside not so much. The outdated knob and tube wiring that is still found in many historic homes, is something that must be replaced. Sometimes, this will even be cleverly disguised so that it ends up missed by a home inspector. If you know or even suspect that you may be in need of knob and tube wiring replacement, make the call today.
Outlet Repairs - Every house seems to have at least one outlet that cannot be used. It doesn't work, burned out or continues to trip breakers. The common erroneous solution is to just stop using it. However, that means ignoring an electrical problem that still exists in your walls. Discontinue use, but make it a point to call us to take a look at the problem.
Attic Fans - Having an attic fan installed is the ideal way to improve circulation. Humid air stagnates in your attic, causing your energy bills to soar and presenting potential problems like mold. Not to mention, when your home is not energy efficient, it also means that it is not green, or environmentally responsible. We can design the best plan for an attic fan system, install it for you and even take care of the maintenance along the way.
Ridgefield Commercial Electrician Experts
For the best in commercial electrical work, the name to also trust in is Electrical Technicians of Connecticut, LLC. As with residential work, we try to provide as many commercial services as you may need, such as:
Shop Relocation Wiring - When moving your shop, it is vital that the wiring is handled properly. We can help you move by changing locations within the same building or to a new location.
Fire Alarm Installation - Fire alarms are a necessity by any industry guidelines for any type of commercial structure. We can provide you the skilled service needed to install a system for you that will meet and exceed industry codes.
New Construction - Being able to build a commercial space suited to the needs of your business will set you up for better chances for success. However, make it a point to get the quality new construction electrical work that you need from true experts.
The bottom line is that we generally care about the work we do for our clients, both residential and commercial.
If you are looking for an electrician in Ridgefield, CT then please call Electrical Technicians of Connecticut, LLC at 203-262-0481 or complete our online request form.