Your Go-To Sherman Electricians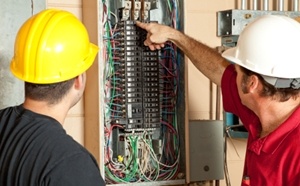 You use electricity throughout the entire day, so the electrical system needs to be reliable and safe. From the moment you wake up until the moment you turn out the lights at night, the electrical components are always flowing with electricity. When there is a problem with any of the components, it needs to be repaired or the entire system can go out. For electrical repairs, upgrades, and new installations, you need a reliable Sherman electrician.
Electrical Technicians of Connecticut, LLC wants to be your go-to Electrican. We provide professional commercial and residential electrical services throughout many areas of Connecticut. We have skilled electricians that are trained in the correct safety measures to make sure your electrical services are done right the first time.
We are a family owned and operated electrical contractor that believes in providing customers with high-quality services and a friendly experience. We provide all of our services at competitive pricing to keep our customers happy. All of our electricians are trained and licensed.
Whether it involves repairs, rewiring, a home generator installation, pool lighting, or commercial security system installation, you can count on our team for affordable, quality service.
Code violation corrections
Lighting systems
Circuit installation
Electrical renovations
Outlet repairs
GFCI outlet upgrades
Ac smoke detectors & CO alarms
New commercial construction
Home electrical remodeling
Central vacuum systems
Generators
and more
Electrical Repairs in Sherman
When it comes to electrical and wiring repair, it's always best to hire a Connecticut licensed electrician to do the work. This ensures that the work is performed accurately and safely according to the state and national safety code guidelines.
Electrical work is dangerous when you aren't skilled and trained to do it. Our team of electricians have many years of combined experience and can repair any problem. Whether you have a brand new electrical system or an older one, we are familiar with how to repair it. We take care of all components including outlets, light switches, panels, all major cables, and standard wiring throughout the building.
Electrical Appliance Installations & Upgrades
With all the modern electronics and appliances you need in your home or business, the need for more electrical power is evident. Otherwise, you could suffer from shorts, blown fuses, power surges, lighting blow-outs, and other problems.
New wiring and possibly a panel upgrade can solve this problem as it will effectively power the appliances you need. We can assess the current electrical system and determine what needs to be done to install your new generator or other appliance safely. If you do need a panel upgrade, you'll have guaranteed improvement in the performance of your electrical system.
Home Electrical Safety Inspections
Today's homes have completely different wiring systems than homes from 30-40 years ago. If you have an older home and you've never had the electrical system inspected, you are likely in dire need of an upgrade. Let us inspect the wiring and panel in your home.
It's highly important to ensure that the electrical components are safe and functional. Remember, have an electrical safety inspection done about every 7-10 years or anytime you need to make changes to the system. Call and tell us you need an inspection today.
Commercial Phone, Cable, & Network Services in Sherman
Not all electricians work on commercial communications and networking systems. They must be trained and keep up with all the latest systems that are being used in businesses today. As competitive electricians, we love to stay up to date on vital electrical systems including phone, cable, network, data, security, access control, and other systems.
We offer repairs and new installations. To learn more about our phone, cable, and network commercial services in Sherman, just give us a call. We will go the extra mile to ensure you have exactly what you need to run your business effectively and efficiently.
If you are looking for an electrician in Sherman, CT then please call Electrical Technicians of Connecticut, LLC at 203-262-0481 or complete our online request form.