Southbury Electricians Dedicated to Excellence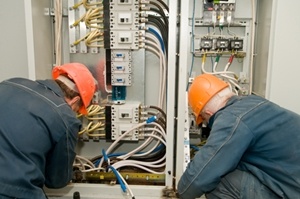 At Electrical Technicians of Connecticut, LLC, our Southbury electricians have the knowledge, skill, and experience necessary to provide for all your needs. We proudly serve both commercial and residential property owners in the area. In every service that we conduct, our team of experts strives to achieve the highest quality results possible. Customer satisfaction is our foremost priority.
If you need to hire a professionally licensed electrician in Southbury, CT, call Electrical Technicians of Connecticut, LLC, today. Our staff is always happy to assist a local family or business in any way that we can. Our electrical experts would be glad to discuss your needs with you and to answer any questions that you may have about our skills and services. We can schedule your appointment today.
Residential Electrical Wiring Services in Southbury
Our highly skilled electrical technicians have the ability to handle the most difficult and extensive residential electrical tasks, including whole-house rewiring efforts. If there are clear problems with your system, i.e. flickering lights, tripping breakers, and substandard appliance performance, chances are there is something amiss with your electrical wiring.
Our Southbury electrical contractors can troubleshoot your electrical wiring and circuits in order to find the precise problem that is affecting system performance. We can then conduct electrical repairs or replacements as need be. Afterwards, you electrical system will once again be able to provide for your needs in the safest and most reliable manner. Give us a call today to schedule an appointment for electrical services from our team of experts.
Commercial Electrical Experts in Southbury
Your commercial property is completely dependent on its electrical system. If there is ever any problem, your business will be less productive and less profitable. Having our electrical contractors in Southbury, CT on call is the best way to ensure that your electrical system is ready to meet your demands. Here are just a few of the commercial electrical services that we proudly provide:
New Construction
Facility Electrical Wiring
Phone/Cable/Network
Fire Alarm Installation
Machine Control Wiring
Emergency Back Up Generators
Transfer Switches
Shop Relocation Wiring
Central Vacuum Systems
Home Entertainment System Design Services in Southbury
One of our most popular services for residential clients is our assistance during home entertainment system design projects. Our Southbury electricians can help you make the absolute most of this effort. We handle everything from flat screen TV mounting services to installing fully customized home theaters for our clients. We can help you create a whole-house audio system that will revolutionize how you and your family consume your favorite media. You and your family are guaranteed to be completely pleased with the results.
If you are looking for an electrician in Southbury, CT then please call Electrical Technicians of Connecticut, LLC at 203-262-0481 or complete our online request form.