Electrical Wiring Repairs and Replacements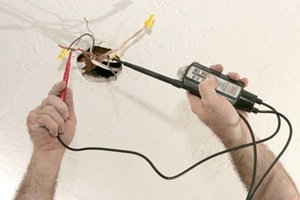 At some point in time, every homeowner experiences an electrical problem in his or her property. when this inevitably occurs in your residence, it is important for you to hire a professionally licensed electrician for assistance. At Electrical Technicians of Connecticut, LLC, our electricians are here to help you in this regard. Our professionals specialize in installing, repairing, and replacing electrical wiring in Southbury and nearby for residential clients.
Our electrical technicians understand how important your home is to you and your family. We are honored by the fact that so many local residents have trusted us with their residences. When you hire our team to install or repair the wiring in your home, we will work our hardest to provide you with the highest quality electrical services possible. You and your family are guaranteed to be pleased with the results of our efforts.
Call Electrical Technicians of Connecticut, LLC, today if you believe that there is a problem with the electrical wiring in your Southbury home. Our polite, professional, and dedicated staff would be happy to take your call, to answer any of your questions, and to schedule your appointment today.
Electrical Wiring Repairs in Southbury
After years of use, your electrical wiring will deteriorate or become damaged. If you live in an older home, your wiring may be insufficient for the heavy electrical demand we have today. Nails and screws can nick, pinch, or cut wires. Overloads and temperature changes can degrade insulation. In any of these instances, it is important to hire a professionally licensed electrician to conduct repairs.
Our highly skilled professionals can troubleshoot all of your electrical wiring. We will fix any and all problems that we find. Call us today if you notice any of the following problems with your electrical system:
Tripping Breakers
Flickering Lights
Dimming Lights
Hot Fixtures
Scorched Outlets
Dead Outlets
Inoperable Switches
And More
Electrical Wiring Installations and Replacements in Southbury
In addition to our exceptional electrical wiring repair services, our Southbury electricians are also highly adept at electrical wiring replacements and installations for both renovation, remodeling, and construction projects. Our exceptionally experienced and skillful team can assist you in designing new circuits for home additions or for finished basements.
When you hire our professionals for electrical wiring installation or replacement services, you can rest assured knowing that you made the best possible choice for your home. You and your family are guaranteed to be absolutely pleased with the results of our efforts.
If you are looking for an electrician to install, replace, or repair electrical wiring in Southbury, CT or nearby, please call 203-262-0481 or complete our online request form.
Recent Articles
Helpful Advice for Choosing a Standby Generator for Your Home - Electricity is more than a convenience; it is a necessity. Without a reliable source of electricity in your home, you and your family cannot enjoy your property to the utmost. When the power goes out in the local area, you and your family are deprived of the comfort and security that you expect and deserve in your property. For these reasons, every homeowner should consider installing a standby generator … Read More
What Southbury Residents Should Know About Level 2 Electrical Vehicle Chargers - Generally speaking, for residential properties, there are two options when it comes to electrical vehicle chargers, level 1 and level 2. Level one chargers rely on the 120V current within your residence. In contrast, level 2 electrical vehicle chargers have 240V, similar to your washer and dryer. This added current allows your electronic vehicle to charge much faster than with a level 1 system … Read More