GFCI Electrical Outlet Troubleshooting and Repair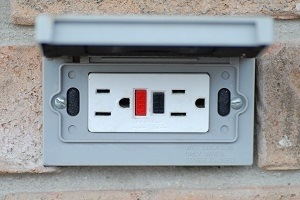 The most important aspect of any electrical system is safety. In certain rooms around your home, you need to have devices designed for the unique conditions present. In any area of your residence that is exposed to moisture, it is imperative that you have GFCI electrical outlets in place. These devices protect you and your family from shock hazards. At Electrical Technicians of Connecticut, LLC, our electricians specialize in GFCI outlet troubleshooting and repair services.
When you hire our professionals to care for your electrical system, you can feel confident knowing that you hired the best team for the job. Our highly skilled technicians always work their hardest to ensure that we provide the highest quality services possible. Our company is here to make certain that your electrical system operates in the most efficient, effective, reliable, and safe manner at all times. You and your family's satisfaction is our highest priority.
Call Electrical Technicians of Connecticut, LLC, today if you need to hire a professionally licensed electrician who installs and repairs GFCI outlets in Southbury. Our courteous and polite staff would be happy to take your call, to answer any questions that you may have, and to schedule your appointment today. You and your family will be completely pleased with the results of our efforts. From emergency electrical repairs to simple outlet installations, our team is happy to help our clients in Southbury and the surrounding areas.
What is a GFCI Electrical Outlet
A GFCI outlet is a specific safety device designed for interior rooms of your home that are susceptible to moisture and to exterior receptacles on your property. Specifically, the name stands for ground fault circuit interrupters. Essentially, these devices prevent shock hazards in places where the risk is the highest. When a GFCI outlet senses a leak, it immediately trips to shut off power. You should have GFCI outlets installed in all of the following places of your Southbury residence:
Bathrooms
Kitchens
Garages
Basements
Home Exterior
GFCI Outlet Repairs in Southbury to Promote Safety in the Home
For all the above reasons, it is imperative that you keep your GFCI electrical outlets in the best condition possible at all times. Conducting repairs on these critical systems requires knowledge, skill, and experience. You should always hire a professionally licensed electrician for the task.
At Electrical Technicians of Connecticut, LLC, our Southbury electricians are ready and eager to assist you. We can troubleshoot and repair your GFCI outlets in the most expert manner. After our efforts, you can rest assured knowing that these devices are providing you and your family with the protection that you expect and deserve in your home.
If you are looking for an electrician that installs and repairs GFCI electrical outlets in Southbury, CT or nearby, please call 203-262-0481 or complete our online request form.
Recent Articles
Helpful Advice for Choosing a Standby Generator for Your Home - Electricity is more than a convenience; it is a necessity. Without a reliable source of electricity in your home, you and your family cannot enjoy your property to the utmost. When the power goes out in the local area, you and your family are deprived of the comfort and security that you expect and deserve in your property. For these reasons, every homeowner should consider installing a standby generator … Read More
What Southbury Residents Should Know About Level 2 Electrical Vehicle Chargers - Generally speaking, for residential properties, there are two options when it comes to electrical vehicle chargers, level 1 and level 2. Level one chargers rely on the 120V current within your residence. In contrast, level 2 electrical vehicle chargers have 240V, similar to your washer and dryer. This added current allows your electronic vehicle to charge much faster than with a level 1 system … Read More