Home Theater System Solutions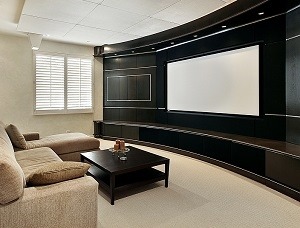 If you are planning to install or update a home theater system in the Southbury area, Electrical Technicians of Connecticut, LLC, is here to help. Our electricians have the knowledge, skill, and experience necessary to assist you in achieving all of your home theater installation goals. With our guidance, you will make the absolute most out of the project.
In every electrical service that we provide, our professionals work their hardest to for all of our customers, no matter the extent of the project. We strive to earn the trust and confidence of all of our clients. Our company wants to be your go-to electricians now and in the future. Together, we can keep your electrical system in the best condition possible at all times.
Call Electrical Technicians of Connecticut, LLC, today if your need to hire an electrical contractor who specializes in installing and designing home theater systems in Southbury, CT. Our courteous and polite staff would be happy to assist you in any way that we can. Our experts would be glad to answer any questions that you may have about our services and skills. We can schedule your consultation or service call today.
Expert Advice During Your Home Theater Design Project
If you want to make the absolute most out of your home entertainment design project, you should consult with a professional who has experience in these efforts. Our Southbury electricians can help you choose the best devices for your home and your family's entertainment needs. Likewise, we can assist you in understanding all of the unique functions that you can achieve with professional help.
Our experts can transform any room into a home theater. We can install whole-house audio, so that you can transition seamlessly throughout your property without missing a beat. Likewise, our professionals can segment different audio systems throughout your residence. We even have the knowledge and skill necessary to help you install a home entertainment system on your deck, porch, or patio.
Home Entertainment Systems in Southbury Customized to Your Needs
In the end, you and your family will be the daily users of your home theater system. For this reason, it is absolutely critical that your TV and audio devices are completely customized to how you and your family use and enjoy your property. Throughout your entire home entertainment design project, our professionals will constantly stay attuned to your inputs. In this way, we can ensure that we are providing you with the most customized services possible. You and your family will absolutely love the results.
If you are looking for an electrician that installs home theater systems in Southbury, CT or nearby, please call 203-262-0481 or complete our online request form.
Recent Articles
Helpful Advice for Choosing a Standby Generator for Your Home - Electricity is more than a convenience; it is a necessity. Without a reliable source of electricity in your home, you and your family cannot enjoy your property to the utmost. When the power goes out in the local area, you and your family are deprived of the comfort and security that you expect and deserve in your property. For these reasons, every homeowner should consider installing a standby generator … Read More
What Southbury Residents Should Know About Level 2 Electrical Vehicle Chargers - Generally speaking, for residential properties, there are two options when it comes to electrical vehicle chargers, level 1 and level 2. Level one chargers rely on the 120V current within your residence. In contrast, level 2 electrical vehicle chargers have 240V, similar to your washer and dryer. This added current allows your electronic vehicle to charge much faster than with a level 1 system … Read More