Professional Knob and Tube Wiring Replacements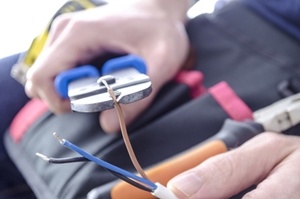 The most important aspect of any electrical system is safety. As we have advanced in our knowledge and skill with harnessing electricity, our industry has made many advances to promote safe performance. If your property is older, some of these necessary evolutions may have not yet been implemented in your home. At Electrical Technicians of Connecticut, LLC, our electricians are here to help all our customers update and upgrade their properties to the highest safety standards. One common task we are routinely called upon to perform in this regard is knob and tube wiring replacements in Southbury and the surrounding areas.
When you hire us for your knob and tube wiring replacement project, you are choosing the absolute best electrical services team for the task. We place safety as our highest priority. Our technicians never cut corners in this regard. After our efforts, you can rest assured knowing that your electrical system is in the best condition possible.
If you believe that there is knob and tune wiring in your Southbury home, call Electrical Technicians of Connecticut, LLC, today. Our highly skilled and exceptionally experienced electricians are ready and eager to assist you. Our polite staff would be happy to answer any of your questions and to schedule your appointment today.
What is Knob and Tube Wiring
Knob and tube wiring was used widely up until the 1930s; however, many electrical contractors continued to use the method for residential construction projects all the way up until the 1970s. The method gets its name from the ceramic knobs and tubes used to hold and connect wires in place. They lack a ground wire necessary to carry excessive charge during a short.
Other problems with knob and tube wiring is the insulation that is used, most commonly rubber. After years of service, rubber insulation can deteriorate, exposing bare wire to air and moisture. This increases the likelihood of a short or a fire occurring. Knob and tube wiring is also very difficult to add circuits to the system. These problems can lead insurance companies to demand hire premiums from homeowners.
Knob and Tube Wiring Removal Experts in Southbury
Our Southbury electricians can troubleshoot your entire electrical system in order to find every safety problem present in your home. We will identify, remove, and replace every knob and tube wiring section of your electrical system. Our residential electricians will ensure that your property is up to the highest codes and standards. Afterwards, your electrical system will not only operate safely, but it will also provide for your needs in the most efficient, effective, and reliable manner.
If you are looking for an electrician that does knob and tube wiring replacements in Southbury, CT or nearby, please call 203-262-0481 or complete our online request form.
Recent Articles
Helpful Advice for Choosing a Standby Generator for Your Home - Electricity is more than a convenience; it is a necessity. Without a reliable source of electricity in your home, you and your family cannot enjoy your property to the utmost. When the power goes out in the local area, you and your family are deprived of the comfort and security that you expect and deserve in your property. For these reasons, every homeowner should consider installing a standby generator … Read More
What Southbury Residents Should Know About Level 2 Electrical Vehicle Chargers - Generally speaking, for residential properties, there are two options when it comes to electrical vehicle chargers, level 1 and level 2. Level one chargers rely on the 120V current within your residence. In contrast, level 2 electrical vehicle chargers have 240V, similar to your washer and dryer. This added current allows your electronic vehicle to charge much faster than with a level 1 system … Read More