Your Top Choice for Lighting Installation & Repair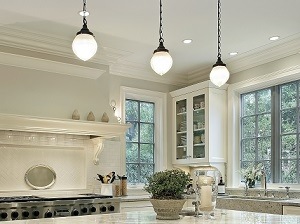 At Electrical Technicians of Connecticut, LLC we are your top choice for lighting installations and repairs in Southbury and surrounding areas. Our electricians can install light fixtures and switches for new renovations, garages, kitchens, landscapes and more. Whether you are looking for a custom lighting solution or standard light fixtures, we can help. Our company is known for providing top quality lighting services in Southbury, and we offer installation of everything from security lighting to landscape lighting, garage lights and chandeliers.
Our electrical services team is highly experienced in repairing and installing residential lighting systems, and we can install all types of lights for your home, including: recessed lighting, interior lighting, fluorescent lighting, indirect lighting, deck lighting, exterior wall lighting, security lighting, garage lights, and many more. Give us a call today to get started on your lighting project.
If you are looking for an electrician that installs various types of lighting in Southbury, CT or nearby, please call 203-262-0481 or complete our online request form.
Recent Articles
Helpful Advice for Choosing a Standby Generator for Your Home - Electricity is more than a convenience; it is a necessity. Without a reliable source of electricity in your home, you and your family cannot enjoy your property to the utmost. When the power goes out in the local area, you and your family are deprived of the comfort and security that you expect and deserve in your property. For these reasons, every homeowner should consider installing a standby generator … Read More
What Southbury Residents Should Know About Level 2 Electrical Vehicle Chargers - Generally speaking, for residential properties, there are two options when it comes to electrical vehicle chargers, level 1 and level 2. Level one chargers rely on the 120V current within your residence. In contrast, level 2 electrical vehicle chargers have 240V, similar to your washer and dryer. This added current allows your electronic vehicle to charge much faster than with a level 1 system … Read More