Electrical Outlet Repairs from Your Trusted Local Electrician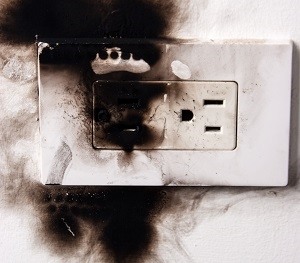 Your electrical system is by far one of the most important aspects of your home. You and your family rely on electricity for each and every one of your daily tasks. In order for your appliances and fixtures to provide for your needs, your outlets and receptacles must be in good working order. At Electrical Technicians of Connecticut, LLC, our electricians can help you with all your outlet repair and troubleshooting needs.
With our assistance, your electrical system will always operate in the most efficient, effective, and reliable manner possible. In every project that we conduct, our professionals are completely and totally focused on customer satisfaction. In the end, our goal is to form long lasting and mutually beneficial relationships with all of our customers. We want you to know that you can trust us with all your present and future electrical needs.
If your are dealing with a faulty or dead electrical outlet in your Southbury home, call Electrical Technicians of Connecticut, LLC, today. Our polite and professional staff would be happy to take your call and to assist you in any way that we can. Our knowledgeable experts can answer any of your questions that you may have about your property or our skills and services. We can schedule your appointment for electrical repairs today.
Electrical Outlet Troubleshooting in Southbury
In order to repair your electrical outlets effectively, it is important to determine the precise cause of the problem. Without the requisite knowledge, equipment, and skill, it can be nearly impossible to do so. Instead of tolerating your dead or faulty outlet, you should contact a professional for assistance.
At Electrical Technicians of Connecticut, LLC, our Southbury electricians are here to assist you in this regard. We have the training and experience necessary to troubleshoot your appliances, your outlet, its wiring, your circuits, and your entire electrical system. In this way, we can identify and repair the precise problem in the most expert manner. After our efforts, your outlets will once again provide for all your needs.
Electrical Outlet Repairs Conducted Safely
The first and most important rule of electrical repairs is that you should never conducted them if you lack the knowledge and skill to do so. Trying to fix a dead outlet yourself can be extremely dangerous. As always, it is vitally important that you trust these tasks with a professionally licensed electrician.
At Electrical Technicians of Connecticut, LLC, our Southbury electricians can repair your outlets in the safest possible manner. When you trust us with the task, you can rest assured knowing that your outlets will be restored to full effective and safe operation.
If you are looking for an electrician that provides outlet repairs in Southbury, CT or nearby, please call 203-262-0481 or complete our online request form.
Recent Articles
Helpful Advice for Choosing a Standby Generator for Your Home - Electricity is more than a convenience; it is a necessity. Without a reliable source of electricity in your home, you and your family cannot enjoy your property to the utmost. When the power goes out in the local area, you and your family are deprived of the comfort and security that you expect and deserve in your property. For these reasons, every homeowner should consider installing a standby generator … Read More
What Southbury Residents Should Know About Level 2 Electrical Vehicle Chargers - Generally speaking, for residential properties, there are two options when it comes to electrical vehicle chargers, level 1 and level 2. Level one chargers rely on the 120V current within your residence. In contrast, level 2 electrical vehicle chargers have 240V, similar to your washer and dryer. This added current allows your electronic vehicle to charge much faster than with a level 1 system … Read More