Stay Up to Date with Electrical Panel Upgrades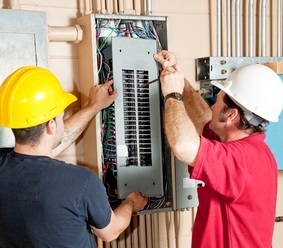 In today's home, we demand more for our electrical systems than we did at any point in the past. Electrical devices and equipment are necessitating more and more power. If your home's electrical system was designed decades ago and has not been upgraded, chances are that your property is struggling to provide for your needs. At Electrical Technicians of Connecticut, LLC, our electricians can ensure that your electrical system is in the best condition possible. We specialize in electrical panel upgrades for homes in the Southbury area and nearby.
Your electrical panel is the area of your home through which power enters your property and is distributed throughout the various circuits of your residence. It is also where your circuit breakers are housed. For these reasons, your electrical panel is integral to the safety, reliability, and efficiency of your electrical system. Upgrading an outdated electrical panel can vastly improve all of these critical attributes.
Call Electrical Technicians of Connecticut, LLC, today if you believe that your electrical panel needs to be upgraded. Our electrical services team in Southbury would be happy to guide you through the entire effort. We will personally inspect and troubleshoot your property in order to determine the best course of action. Our polite staff can schedule your appointment today.
Signs that Your Electrical Panel Needs to Be Upgraded
Without the requisite knowledge, training, and experience, it can be difficult to know when electrical panel upgrades are needed. However, if you see signs of overloading or poor performance in you electrical system, it is always advisable for you to contact a professionally licensed electrician. Our Southbury electricians are always on call and ready to help you in this regard.
Call our professionals today if you notice any of the following problems in your home. Our technicians can identify the exact problem and conduct the precise repair or upgrade to fix it. Oftentimes, these are signs that you need to have your electrical panel upgraded:
Dimming Lights
Tripping Breakers
Inability to Run Multiple Appliances
Overloading
Flickering Lights
Substandard Performance
And More
Electrical Panels Upgrades in in Southbury for Increased Demand
There are two instances in which you may want to upgrade your electrical panel even if it is not outdated. First, if you are installing a large electrical appliance in your how that has a potential to overload your circuits. Second, if you are constructing a remodeling project that will add a great deal of demand on your electrical system. In either event, our Southbury electricians can help you make the best choices, design the optimal electrical system, and upgrade your electrical panel in the best possible manner.
If you are looking for an electrician that conducts electrical panel upgrades in Southbury, CT or nearby, please call 203-262-0481 or complete our online request form.
Recent Articles
Helpful Advice for Choosing a Standby Generator for Your Home - Electricity is more than a convenience; it is a necessity. Without a reliable source of electricity in your home, you and your family cannot enjoy your property to the utmost. When the power goes out in the local area, you and your family are deprived of the comfort and security that you expect and deserve in your property. For these reasons, every homeowner should consider installing a standby generator … Read More
What Southbury Residents Should Know About Level 2 Electrical Vehicle Chargers - Generally speaking, for residential properties, there are two options when it comes to electrical vehicle chargers, level 1 and level 2. Level one chargers rely on the 120V current within your residence. In contrast, level 2 electrical vehicle chargers have 240V, similar to your washer and dryer. This added current allows your electronic vehicle to charge much faster than with a level 1 system … Read More