Security Lighting Installed by Expert Southbury Electricians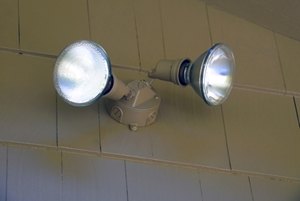 As a property owner, you have an obligation to keep your residence safe and secure at all times. One of the best ways in which you can improve the safety of your family and loved ones in your home is by installing security lighting around your property. At Electrical Technicians of Connecticut, LLC, our electricians would be honored to assist you with this effort. We have the knowledge, skill, and experience necessary to install, repair, and maintain security lighting systems for you.
If you are interested in installing new security lights around your Southbury property, call Electrical Technicians of Connecticut, LLC, today. Our polite and dedicated staff is ready and eager to assist you. With our help, you will be able to achieve all of your goals. Our experts would be happy to answer any questions that you may have. We can schedule your appointment with one of our Southbury lighting installation experts today.
Security Lighting & Devices We Proudly Install
At Electrical Technicians of Connecticut, LLC, our Southbury electricians are proud to provide a full line of exceptional security lighting installation services to all of our customers. With our help, you will be able to design a system that will work perfectly for your property and for how you and your family use your home. We can integrate all of the following security lighting devices into an easily controllable comprehensive system for you. Here are just a few of the security lighting systems that we routinely install for our customers:
Flood Lights
Motion Sensors
Wall Mount Lights
Post Mount Lights
LED Security Lighting
Surveillance Systems
Lighting Timers
Solar Lighting
And More
Security Lighting in Southbury Promotes Safety Around the Home
A well designed security lighting system will promote safety around your Southbury home in multiple ways. First and foremost, your security lighting will provide your property with necessary illumination during the evening. In this way, it will deter potential criminal actors from targeting your home because it will limit hiding places and promote easier identification.
In addition, your security lighting will make navigating your property easier and more safe during the evening. You, your family, and your guests will always be able to view exactly where you are walking in and around your yard.
When you hire our Southbury electrical services team for your security lighting project, you can feel confident knowing that you will maximize all of the above mentioned attributes of your security lighting system. You and your family will be completely satisfied with the extra sense of security that you enjoy in your home during the evening.
If you are looking for an electrician that installs security lighting in Southbury, CT or nearby, please call 203-262-0481 or complete our online request form.
Recent Articles
Helpful Advice for Choosing a Standby Generator for Your Home - Electricity is more than a convenience; it is a necessity. Without a reliable source of electricity in your home, you and your family cannot enjoy your property to the utmost. When the power goes out in the local area, you and your family are deprived of the comfort and security that you expect and deserve in your property. For these reasons, every homeowner should consider installing a standby generator … Read More
What Southbury Residents Should Know About Level 2 Electrical Vehicle Chargers - Generally speaking, for residential properties, there are two options when it comes to electrical vehicle chargers, level 1 and level 2. Level one chargers rely on the 120V current within your residence. In contrast, level 2 electrical vehicle chargers have 240V, similar to your washer and dryer. This added current allows your electronic vehicle to charge much faster than with a level 1 system … Read More