Electrical Troubleshooting Services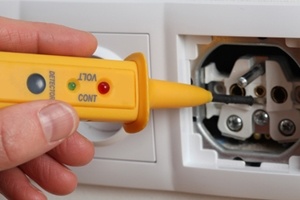 As a homeowner, you have an obligation to keep your electrical system operating in the most efficient, effective, and reliable fashion possible at all times. It is hard to think of a single every day activity that is not made possible in some way by electricity. At Electrical Technicians of Connecticut, LLC, our electricians are here to help you with this responsibility. We specialize in electrical troubleshooting services in the Southbury area for all our customers.
You and your family rely on your electrical system for your comfort, enjoyment, and security in your home. Our professionals understand how important electricity is to you and your family. As such, we are honored by the fact that you are considering hiring us for your troubleshooting, repair, and maintenance needs. Our electricians will honor your trust by providing you with the highest quality electrical services possible.
Call Electrical Technicians of Connecticut today if you need to hire a professionally licensed electrician who specializes in troubleshooting electrical problems in Southbury. Our courteous and polite staff would be happy to take your call. Our knowledgeable experts can answer any of your questions, and ensure you get the electrical repairs you need to keep your home safe and your electrical system operating the way it should. We can schedule your appointment today.
Electrical Troubleshooting is the Key to Successful Repairs
When your electrical system, fixtures, and appliances fail to operate efficiently and effectively, you can be at a total loss as to how to resolve the problem. It takes a great deal of knowledge, skill, and experience in order to figure out the best way to repair the issue. The best course of action is to hire a professionally licensed electrician to assist you with this task.
At Electrical Technicians of Connecticut, LLC, our Southbury electrical troubleshooting experts are here to assist you in this regard. Our professionals handle all sized projects from troubleshooting small appliances to entire residential electrical systems. With our help, guidance, and expertise, you will be fully aware of every electrical problem and issue present with your devices and infrastructure. Our technicians can then conduct precise repairs on the spot.
Southbury Troubleshooting Experts Promoting Efficiency and Safety with Electrical Repairs
Two of the most important aspects of any electrical system are efficiency and safety. If your electrical system is not operating efficiently, you cannot get the most value and enjoyment out of your property. If there are electrical safety issues in your home, you, your family, and your guests are all in jeopardy.
By hiring our Southbury electricians to conduct routine electrical troubleshooting services in your home, you can always rest assured knowing that your system is operating in the most efficient and safest possible manner at all times. You and your family are guaranteed to be completely satisfied with the results of our efforts.
If you are looking for an electrician to troubleshoot your electrical problems in Southbury, CT or nearby, please call 203-262-0481 or complete our online request form.
Recent Articles
Helpful Advice for Choosing a Standby Generator for Your Home - Electricity is more than a convenience; it is a necessity. Without a reliable source of electricity in your home, you and your family cannot enjoy your property to the utmost. When the power goes out in the local area, you and your family are deprived of the comfort and security that you expect and deserve in your property. For these reasons, every homeowner should consider installing a standby generator … Read More
What Southbury Residents Should Know About Level 2 Electrical Vehicle Chargers - Generally speaking, for residential properties, there are two options when it comes to electrical vehicle chargers, level 1 and level 2. Level one chargers rely on the 120V current within your residence. In contrast, level 2 electrical vehicle chargers have 240V, similar to your washer and dryer. This added current allows your electronic vehicle to charge much faster than with a level 1 system … Read More